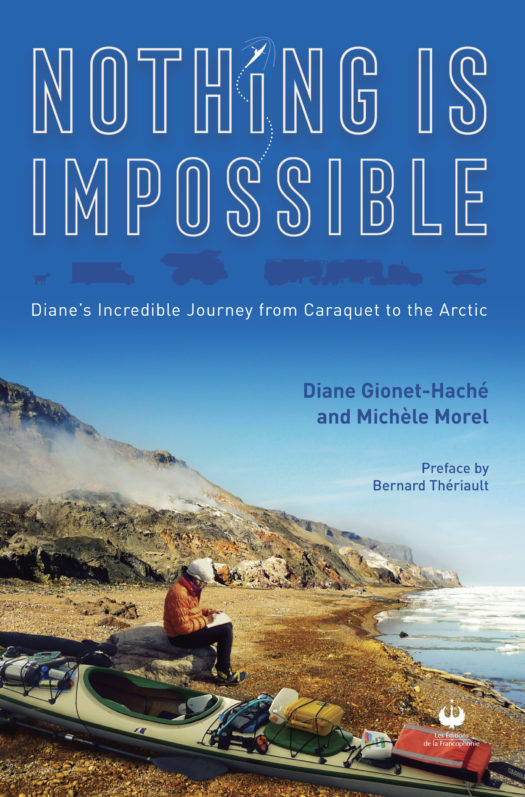 Auteur : Diane Gionet-Haché, Michèle Morel
Date de publication : 20211208
Nombre de pages : 280
ISBN : 9782896277308
Prix : 23.99

Description
"I had imagined what I would do if I encountered a bear… I thought it would happen— just not so soon and not so close up! I did not have a rifle, only a little axe and a knife to defend myself against an attack. I had been saved by my composure. It was an eloquent reminder to control my fear. If I had given into panic, if I had used my bear spray, what would have happened?… I had had that first memorable encounter and lived to tell about it."

At the beginning of her fifties, Diane moved her husband, family, and home to Yellowknife, leaving behind her Acadian homeland. She discovered a new life in the North, and her lifelong dreams reminded her that nothing was impossible. Simply and honestly, this extraordinary woman invites us into a universe where fear and personal limits have no place, following the paths travelled by adventurous women before her.

This is the story of her unusual experiences. Paddling along the Mackenzie River and across the mythical Northwest Passage by herself? Working in a diamond mine? Driving on the dangerous ice road? Raising almost half a million dollars for an Indigenous women's shelter? Nothing can stop Diane! For this remarkable woman, being over fifty is no reason not to try things other people think are foolish or dangerous. "Impossible is just a perception, which disappears when we do it." This book may revive your own "impossible" dreams.

Born and raised in Caraquet, New Brunswick, Diane Gionet-Haché founded Les Blancs d'Arcadie cheese company while raising her four children. After leaving the Acadian Peninsula, she enthusiastically worked at jobs rarely done by women. Each new experience brought Diane closer to her true, adventurous nature and her Indigenous roots, leading her to the challenges of an Arctic kayak expedition. When she retired from the Diavik mine, yet another innovative project engaged her enterprising spirit: fundraising for a women's shelter in Yellowknife. Diane is a living legend and an inspiration.